How to build your weekly work out plan?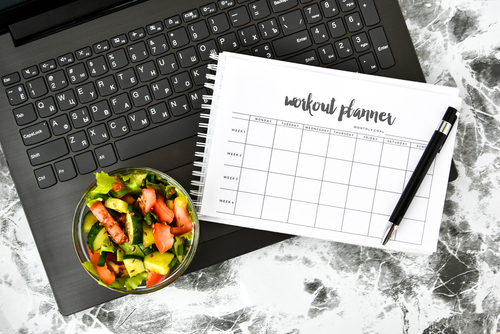 One of the questions I get asked by my clients is "What should I do in between our sessions?" This usually makes me ask a range of questions in return, so I thought I'd share some ideas about how to build a weekly exercise routine which works for you.  Before we go into detail, please reflect on a couple of things:
1. How many times a week can you realistically fit in exercise?
It's worth taking some time to consider your answer to this one, because we all overestimate how much we can really do, when we fall short it can lead to the feeling of failure or falling off the exercise wagon. Once you have a good idea of when and how many times you can exercise in a week, consider the duration of the workout. Try not to let the pressure of fitting an arbitrary number of workouts in, just because you read in the Sunday paper Lifestyle magazine that you should do exercise 4 times a week. Do fewer sessions well, be realistic what you can achieve with your lifestyle and other commitments. Once you have a good idea of what you can do write it down, eg:
When:-
Monday 7pm for 1 hour
Wednesday 7am for 45 minutes or Thursday at 8am for 45 minutes -but not both.
Saturday 10am for 1 hour
2. What do you love doing?
Finding your passion for movement is much more rewarding physically and mentally. Do you feel joy and peace in a yoga session, climbing a steep hill out in the fresh air or on a spin bike with some banging house music? List the activities that you will look forward to and get something more from than just ticking a box. Again, it's important to be realistic with this – do you have any injuries or restrictions that might stop you doing some of these exercises? or if you love hiking, can you do that weekly given where you live?
Add to your list a list of activities you love doing
Fun activities:-
Yoga or Pilates
Spinning
Kettlebell class or practice at home
Kayaking – ad hock activity
Jogging (but injured so need to recover first)
Dancing – ad hock activity
3. What barriers are there that you might experience?
If we are just starting out on our exercise journey we may find that we subconsciously put up barriers which stop us from getting started.  For example: Might you have to suddenly change your plans for a work meeting or a stint of unexpected childcare?  Do you struggle with motivation later in the day or you can't get up early on weekdays?  Did you not sleep well?  These barriers are likely to interrupt your exercise plans and it's worth taking time to make a plan about how to work around them, rather than get frustrated and resentful.
4. Balance and variety within the week.
For my PT clients I generally focus on weights and core work. In addition to this I encourage them to find a cardio style session and a stretch or mindful piece of activity to do in between our sessions, if they have time and capacity.
The variety below is key to help us prevent injury and create resilience in our bodies. Injuries can come from overtraining a muscle group and a tear can occur or restricted movement in an area of the body and it causes a strain on a muscle, ligament or tendon somewhere else. These tend to occur when we are stiff or because we are struggling with our core. Variety can also help with keeping things interesting and varied too which means we are much more likely to stick to our routine.
It's really tempting to do the same activity over and over in a week. I tend to come across this a lot with clients in my Spinning classes and I've certainly been that person too that did three Spinning classes in a week and nothing else other than maybe a jog at the weekend.
Ideally it would be best to have a mix of different styles of movement, choose ones which combination of exercise types which work for you eg:
Cardio style movements
weights based workouts
Stretch and mobility sessions
Sports eg: playing tennis, netball, basketball, football with the kids, take the dog for a walk, paddle boarding, horse riding – the list goes on.
This said that doesn't mean you need to do this every week; you could do this on a rolling pattern over a two-week period if that is what time you have available.
Bring it all together to make a plan you can stick to.
Once you've got your answers to the above 4 questions the next step it to bring it all together to find the classes you would like to join on days that work for you. This bit can be a fun task, getting local class times and gym timetables from your local area and seeing what they have on at the times you know you can commit. If you are keen to try something new then I invite you to join my Fitness in the Forest class or try a strength-based PT session with me. Most importantly, have fun with you weekly exercise and you'll set yourself up for success.